The topic of people's well-being has gained significant importance recently, and it has had a notable impact on the hotel industry.
With a growing number of individuals prioritizing their health and wellness, spa facilities, fitness centers, and other health activities have become increasingly popular.
No wonder hotels are claiming their chunk of the pie. In all seriousness, expanding gyms in the hotel industry was unavoidable from a practical and profitable standpoint. The better the service, the more in demand they become.
However, while hotels may be catching on to this long-lasting trend, many hotels and hotel chains need to do a better job in execution.
Sure, they may now have a "gym" facility. But the quality and effectiveness of these facilities could be better. Ready for a lesson in the hotel industry? Then keep reading! Let's jump into it.
The Impact of Hotel Stars on Fitness Facilities
What are Hotel Stars?
Let's face it, choosing a hotel can be overwhelming.
For many years, Hotel Stars has been a widely used rating system in the hotel industry that can help travelers make informed decisions when choosing a hotel.
While the exact requirements for each star rating may vary depending on the country and organization responsible for the rating, there are some general guidelines to keep in mind.
In general, hotels with more stars offer more amenities and services.
For example, a 5-star hotel will likely have features such as a spa, fitness center, and multiple restaurants, while a 3-star hotel may only have a basic gym and one restaurant.
Room quality is also likely to increase with higher star ratings, with luxury bedding and high-end toiletries being offered in 5-star hotels.
However, it is important to remember that star ratings alone do not necessarily reflect a hotel's overall quality.
For example, while a 5-star hotel may have excellent amenities, poor service or outdated rooms could still negatively impact the overall guest experience. Conversely, a 3-star hotel may not have all the amenities but can still provide great value for money.
Overall, it would always help to consider multiple factors when choosing a hotel, including star ratings, guest reviews, and personal preferences.
The Relationship between Hotel Stars and Fitness Facilities
Many guests assume that higher-rated hotels will offer larger and more comprehensive fitness facilities.
However, there is no official correlation between a hotel's star rating and the size or offerings of its amenities.
While luxury hotels may offer additional amenities such as personal trainers, fitness classes, or spa services integrated with their gym facilities, the quality and effectiveness of these facilities can vary widely, even within the same star rating category.
Of course, the availability and quality of fitness facilities can impact a hotel's overall rating and reputation. Therefore, hotels strive to offer some level of gym facilities to meet their guests' expectations.
However, the size and features of these gyms can differ significantly. And as always, there are different understandings of how "good" looks like
Ultimately, guests must research and assess fitness amenities independently to ensure they meet their needs and expectations. While hotel star ratings can serve as a general guide, they should not be the sole determining factor when selecting a hotel.
Instead, utilizing resources like HotelGyms.com and our GymFactor Score can help guests find hotels with fitness facilities that meet their specific needs. Our GymFactor is a state-of-the-art gym advisor tool that benchmarks all hotels with a gym.
Most importantly, this is not just a label a hotel can buy; this is like an award to earn. Some of the main parameters that affect the GymFactor label are:
Heavy Weights
Variety of Equipment
Type of Cardio and Workout Machines
Equipment Maintenance and Cleanliness
Opening Hours
Daylight
etc.
What Equipment can you find in Hotel Gyms?
In many cases, small hotel gyms contain Equipment from multiple brands, depending on what machines and free weights make the most sense. Interestingly, that's not the case with high-end hotel chains.
Instead, these typically rely on a handful of premium brands to fill their training facilities with every machine and accessory the guests might need for working out.
Doing so makes training facilities look more professional because all the Equipment looks identical and is part of the same package.
Plus, big brands often collaborate for win-win situations. Depending on the hotel chain and geographic, different fitness equipment brands are more present.
For example, Life Fitness (US) has a good presence with Marriott, while Hyatt (Europe) has equipped many hotel gyms with TechnoGym equipment. And Hilton has been working with Precor for some of their properties.
Peloton is also one good brand with an increasing presence in hotel gyms. Some hotels even offer Peloton equipment in the rooms, which is terrific, especially if you are a Peloton member.
What makes a good Hotel Gym?
Good gyms are hard to describe, but when you come across one, you know. If you travel often, you have stayed at dozens of hotels with gyms, and let's face it: Most could be better. But, objectively speaking, these four factors make for a good gym:
1. It offers various pieces of Equipment
Having essential Equipment like benches, squat racks, barbells, weight plates, heavy enough dumbbells, and workout machines like the leg press already makes the difference in having a great workout in a hotel gym.
2. Space and Light
In addition to offering a good variety of Equipment, you also need some free space to move around, do warm up, or do bodyweight exercises. Also, natural daylight or a nice view creates a more pleasant and motivating atmosphere.
3. Enough Equipment
A good hotel gym will have multiple pieces of Equipment available to ensure each member can train uninterrupted. This includes having enough cardio machines and providing different workout areas for free weight exercises.
4. Clean and well-maintained
Last but not least, we have all been there before: Walking into a gym room that wreaks sweat and has rusty Equipment.
However, this is not only up to the hotel maintenance crew but also requires the other gym members (including yourself) to follow a few rules when training in a public gym.
Wellness Tourism is NOT just a Trend
The wellness industry and wellness tourism are rapidly growing with no signs of slowing down. As a result, many people are converting to a more wellness-based vacation to experience a total reset of the mind and body.
This experience promotes growth and recovery through yoga, meditation, fitness, and nutrition. And this is precisely where hotel gyms come into play.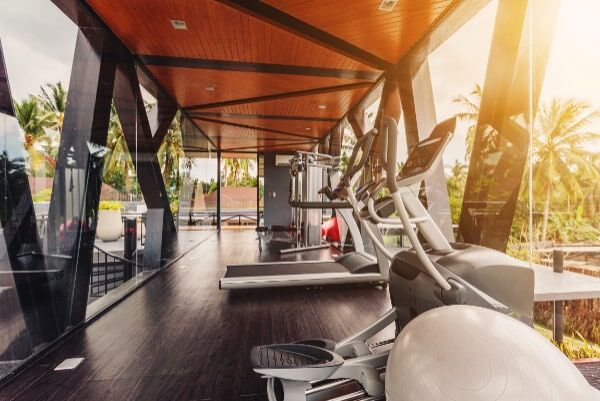 In addition, the hospitality industry is shifting its focus toward holistic well-being, with a growing demand for emotional well-being, mental health, and nutrition, alongside traditional physical wellness offerings like fitness centers and SPAs.
Accor, a leading hospitality company, has taken note of this trend and published a strategy paper titled "Well-Being Imperative," and launched a podcast called "Health to Wealth" to emphasize the importance of well-being transformation.
To conclude, how can you find a good hotel gym?
Hotels have gyms so guests can continue their workout routines while traveling. And some hotels have invested a lot to build a great gym experience.
So first, you want to define what is good for you to find a hotel gym. For example, what Equipment do you expect in a hotel gym? Which type of workout do you want to perform? Then, lock up a location or directly check your favorite hotel's GymFactor on HotelGyms.com to book your next hotel.
If you can not find your hotel on our platform, feel free to request a review or reach out to us. Our mission is to help you to stay fit while traveling.
FAQs
Do all Hotels have Gyms?
Not all hotels have gyms. Although many hotels recognize the importance of fitness facilities, not every hotel offers a gym as an amenity. When choosing a hotel, it is recommended to check their listed amenities or inquire directly to confirm the availability of a gym. Some hotels partner with nearby external gyms and offer free or discounted access. For your convenience, HotelGyms.com provides all these necessary insights.
Are Hotel Gyms free?
The policy regarding fees for hotel gyms can vary. Some hotels include access to their gym facilities as part of the room rate, offering free usage to their guests. However, certain hotels might charge an additional fee for gym access. For example, this is a very comon practice in Japan. It is advisable to check with the hotel beforehand to understand their policy on gym usage and any associated costs.
Can you use a Hotel Gym without staying there?
In some cases, hotels might offer day passes or memberships that allow non-guests to use their gym facilities for a fee. However, this practice is not universal and depends on the hotel's policy. If you are interested in using a hotel gym without staying at the hotel, it is best to contact the hotel and inquire about their day pass options.
Are Hotel Gyms open 24 hours?
Hotel gym hours can vary significantly from one property to another. While some hotels keep their gyms open 24 hours for guest convenience, others may have specific operating hours. It's recommended to check with the hotel regarding their gym's operating hours to plan your workout schedule accordingly.