The prevalence of fitness centers, weight rooms, and spa facilities in hotels, both luxury and practical, are more popular than ever, and for a good reason. Health and wellness have become a priority for millions of individuals these days. They are at the forefront of many people's lives, driving purpose, intent, and direction, dictating where people want to spend their time, money, and attention. No wonder hotels are claiming their chunk of the pie.
In all seriousness, the expansion of gyms in the hotel industry was inevitable from both a practical and profitable standpoint. The better the service, the more in demand they become. However, while hotels may be catching on to this long-lasting trend, many hotels and hotel chains need to do a better job in execution. Sure, they may now have a "gym" facility. But the quality and effectiveness of these facilities could be better. Ready for a lesson in the hotel industry? Then keep reading! Let's jump into it.
Wellness Tourism is NOT just a Trend
Whether you look at the stats and the studies, the wellness industry, and more specifically, wellness tourism, is an ever-growing industry with no plans to slow down.
Take a typical vacation; Why do people travel? To melt stress, improve their mental well-being, enjoy life, and return rejuvenated. But, sadly, many people feel worse after returning from a vacation than before leaving for it. That could be related to factors like overeating, excessive partying, and simply letting loose in the purest sense of the word.
Many people are converting to a more wellness-based vacation to experience a total reset of the mind and body. This experience promotes growth and recovery through yoga, meditation, fitness, and nutrition. And this is precisely where hotel gyms come into play.
Location, Location, Location
That is what they say in real estate, right? Location is the most critical attribute of a property. Well, while we may not be talking about real estate, the location of many chain hotels makes them distant from any outside training facility. 
Given that many travelers also want to stay active and maintain their health, the idea of developing hotel gyms was pretty close out there. Hotels close to well-equipped gyms within walking distance may offer their guests a free pass to that gym. Or assume their guests are "busy" exploring the city. However, take a closer look at business travel: Such travelers often reside in hotels outside the city center, for example, in a hotel near the airport. And suddenly, hotel gyms are becoming very attractive. They are practical, profitable, and, let us be honest, beef up the total packaged experience.
The importance of the proper Equipment Type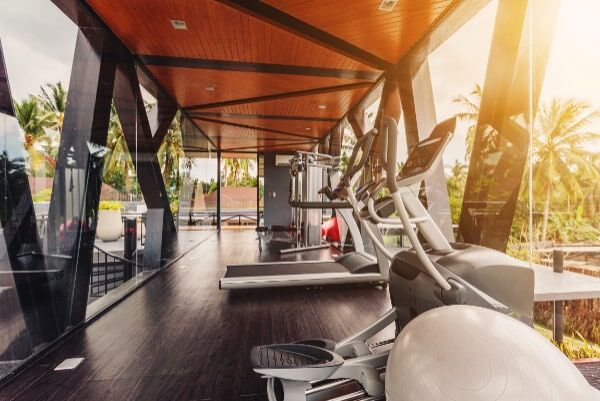 It is clear that hotel gyms are in-demand and here to stay. Moreover, many people enjoy training and want to continue doing it while on vacation or a business trip. Therefore, owners of hotels would not even have to invest that much money to create a great training facility and place themselves ahead of their competition. However, hotel gyms still often lack the necessary equipment, forcing visitors to adjust their training style and find effective tactics to keep challenging themselves.
Some hotel gyms have a variety of machines and weights, but they could be of better quality and make for a more engaging training environment. After all, who wants to sit down for a set of lat pulldowns only to discover that the machine is squeaky, the handle rusty, and the cable is worn out?
Like home and commercial gyms, buying from reputable fitness brands makes a huge difference. Some of the most notable examples include TechnoGym, Matrix, and LifeFitness. RogueFitness is also a fantastic brand known for its high-quality barbells, squat racks, and more. Peloton is one good brand with an increasing presence in hotel gyms. For example, Peloton Bikes are available in many hotel gyms, and all you have to do is follow a few simple steps to set up:
Find a hotel that offers Peloton.
Register with Peloton.
Bring some accessories for your workout (earbuds, some water, a towel, etc.).
Adjust the bike and get started.
Some hotels even offer Peloton equipment in the rooms, which is terrific, especially if you are a Peloton member.
What makes a good hotel gym?
Good gyms are hard to describe, but when you come across one, you know. If you travel often, you have probably stayed at dozens of hotels with gyms, and let's face it: Most could be better. But, objectively speaking, these four factors make for a good gym:
1. It offers various pieces of Equipment
Many hotel gyms need more essential equipment like benches, squat racks, barbells, weight plates, heavy enough dumbbells, and workout machines like the leg press.
2. It is spacious enough
Some gyms have a great variety of equipment you will need for a good workout, yet they need more free space to move around or do some warm-up, bodyweight exercises. 
3. It has enough Equipment and several Units
Certain pieces of equipment, such as dumbbells, kettlebells, EZ-bars, standard barbells, adjustable benches, and weight plates, are high commodities. A good gym will have multiple to ensure that each member can train uninterrupted.
4. It is clean and well-maintained
Last but not least, we have all been there before: Walking into a gym room that wreaks sweat and has rusty equipment. However, this is not only up to the hotel maintenance crew but also requires the other gym members (including yourself) to follow a few rules when training in a public gym.
To conclude, how can you find a good hotel gym?
Hotels have gyms so guests can continue their workout routines while traveling. And some hotels have invested a lot to build a great gym experience. To find a good gym or hotel gym, you want to define what is good for you. For example, what equipment do you expect in a hotel gym? Which type of workout do you want to perform?
Then, lock up a location or directly check your favorite hotel's GymFactor on HotelGyms.com. Our GymFactor is a state-of-the-art gym advisor tool that benchmarks all hotels with a gym. Most importantly, this is not just a label a hotel can buy; this is like an award to earn. Some of the main parameters that affect the GymFactor label are:
Heavy Weights
Variety of Equipment
Type of Cardio and Workout Machines
Equipment Maintenance and Cleanliness
Opening Hours
Daylight
etc.
If you can not find your hotel on our platform, feel free to request a review or reach out to us. Our mission is to help you to stay fit while traveling.
Oh, and if you are a hotel owner looking to promote your hotel gym, get in touch with us, share up-to-date information about your facilities, and send us your latest pictures to get added to our system.