It is no secret that the market is saturated with all kinds of fitness and health apps - some good, some bad, some mediocre. However, if you want to get in shape and do not know where to start, an app is typically the go-to choice because it offers a quick and convenient way to get going.
Among the many apps on the market, the Freeletics fitness app stands out precisely because it offers many benefits and a unique training experience for the user. However, one option has become particularly interesting: bodyweight training.
We have put together this Freeletics review with costs, ratings, discounts and more to help you make the most informed decision.
TL:DR
Type: Bodyweight
Price starts at $1.38/week
Free Version: Yes
Best for: No-Equipment Workout
And now, let us get started with the Freeletics Review.
Freeletics Review 2023 - Maximize your Fitness
Freeletics is an all-in-one fitness app that asks questions, tracks your performance, and creates programs that suit your needs, wants, and goals.
Once you download and install the app, you are prompted to answer some basic questions about yourself. In doing so, you provide the app with actionable data to custom-tailor a plan for you. Typically, the questions are along the lines of:
What is your current fitness level on a scale of not fit at all to really fit?
What are your top three fitness goals?
What is your preferred training style - using your body weight, running, or with a barbell and weights?
The questionnaire takes less than a minute to complete. The app also gathers data for the type of equipment you have available (if any). Once you go through the questionnaire, Freeletics provides you with unique journeys. Each journey represents a training program you can start and typically takes between six and twelve weeks to complete.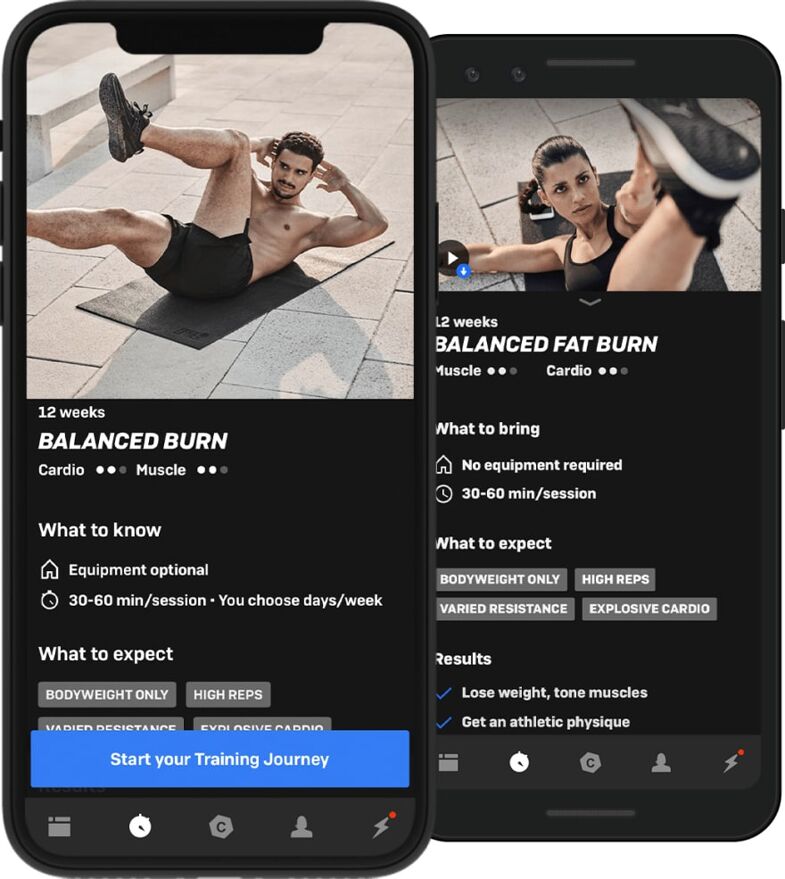 You can learn more about each journey by clicking on them before deciding. If you later find that a program does not work well, you can change course and start over. Alternatively, if you enjoy a given journey, you can repeat it once it is done.
Freeletics Quality and Choice of Workouts
The app is very well-built and intuitive. It was also awarded the "Editors' Choice" and "App of the Day" in Apple and Google Play stores. The app's ratings are also positive, with 4.6 out of 5.0. But let us have a look at the app itself.
As you first start using it, you feel that the app tailors training programs to you and not the other way around. There are many workouts and over 900 workout variations, each covering all your major muscle groups.
The quality of sessions is good, and they are typically a mixture of strength and conditioning work. Activities include built-in warm-up sequences, an active cooldown portion, and progression. You will be able to try different options until you find what you enjoy best.
The interface of Freeletics is clean and straightforward to use. All you need to do is tap the screen. You are then presented with a video demo of each movement and have the option to follow along with the recommended number of reps. Their video tutorials become very handy for exercises you do not know yet, and you can learn while training.
Let's start with a balanced overview with a Freeletics Pros and Cons table for a more detailed assessment.
| | |
| --- | --- |
| What we like ⭐️ | Not so much ❌ |
| Personalized Training Programs: Tailored workout plans based on individual goals and preferences. | Paid Subscription required: Only a subset of exercises are available without subscription. Full access to all features demands a paid subscription. |
| Built-in sequences: Comes with warm-up and cooldown routines, enhancing workout effectiveness. | Lacks social engagement: Limited features for community interaction or challenges. |
| User-friendly Interface: Easy to navigate, smooth user experience, and its visual aids for each exercise are great for both beginners and as a reference. | Limited Equipment customization: Might not allow detailed customization based on available equipment. |
| Workout library Richness: Boasts over 900 exercise variations, ensuring variety and novelty. | Internet dependence: Does not allow for offline access to workouts and requires stable internet connection for streaming and optimal use. |
How to get started with Freeletics
Getting started with the app is relatively simple. Here are the six steps you need to follow:
1. Download the app from your app store of choice.
2. Register an account by adding an e-mail address and password.
3. Answer some crucial questions inside the app:
Your gender
Fitness level
Top 3 goals
Preferred way of training (bodyweight, running, and with weights)
Which days of the week do you want to train
4. Review your training journey. Once you have answered all the necessary questions, the app will present you with training journeys. You can review each and pick the journey you think would suit you best. The app also allows you to give up on a journey, try a new one, or re-do one you have enjoyed before.
5. Perform your first workout, and do not worry about anything. Each session comes equipped with a warm-up, and you are presented with video demonstrations. You can learn how to perform each movement on the go, ensuring the best possible results and the lowest risk of injury.
6. Log your first workout inside the app and watch as Freeletics comes up with adjustments and improvements for upcoming sessions. This is possible thanks to the app's intuitive design and ability to gather feedback from its users. As you finish a workout, the app asks you to rate how difficult it was. Based on that, it adjusts the difficulty for upcoming sessions, creating a tailored experience.
In essence, the Freeletics app is straightforward to use, and you can get started with it in just a few minutes. Most of the plans are well-suited for people with little experience who do not have access to much training equipment. It is best to pay extra attention to your training form to avoid injuries.
Unlike other apps, Freeletics offers an option for people who want to master a particular exercise, which is where coaches come in. Skill progression workouts show you precisely what you need to master new and cool movements. The best part is that you do not have to think about anything. All that is required of you is to stay consistent and follow the plan as it is laid out.
Is Freeletics free? What are the prices?
You can download the app, register, answer questions about yourself, and access a list of exercises free of charge. However, you can only access single exercises with a 1-minute demo each. If you decide to move forward with one of the customized workout plans, it requires a paid subscription.
Freeletics subscription options
You can choose between 3 months, 6 months, or 12 months. So the price breaks down to three different paid subscription options:
There is also a nutritional version of the Freeletics app that offers meal plans, recipes, tips, etc. You can register for free, but it also offers a paid subscription model if you want full access.
The "Training & Nutrition Bundle" adds on about $1/week, depending on how long you sign up for. Beware: it renews automatically.
Freeletics Promo Code
Thanks to our partnership with Freeletics, you will receive an extra 30% off from your next coach subscription. Ready to become a Freeletics member?
Please note that the Freeletics discount must be redeemed on the website, not within the app store.
Our thoughts on the App
So, how effective are Freeletics Workouts? Taking the plan seriously and following the app's instructions will help you get in shape. The app is highly customizable, relatively flexible, and is almost like having a virtual personal trainer.
Depending on your schedule and life stressors, you can adjust your training from week to week (or day to day). Freeletics might be better for endurance than strength, though.
Is Freeletics something for you? If you mostly care about general fitness, working out at home or while traveling, this might be something you want to test. However, if you did not find what you were looking for in this app review, there is no need to worry!
For even more options to help you achieve your fitness goals, be sure to check out our page comparing the top selected fitness apps.
Conclusion
Freeletics is one of the best fitness apps out there. Aside from being easy to use and featuring a beautiful interface, the app provides countless training recommendations, making it easy to change your training on the go.
A significant roadblock while traveling is staying consistent with your routine. You can find good hotels with our GymFactor, but having access to some equipment does not ensure a good workout. Freeletics provides effective training plans, regardless of where you are, making it a fantastic companion on your fitness journey.
Frequently Asked Questions
What makes Freeletics different from other fitness apps?
The primary difference between Freeletics and other apps like Hevy and Fitbod is its unique training journeys that make the training experience more engaging. Strong and Fitbod are two fantastic apps, but journeys provide a sense of progression and keep beginners accountable.
Unlike many other apps, Freeletics offers a complete package because it provides warm-up recommendations, suggestions for tweaking your training, and access to countless instructional videos.
As a result, you do not need to venture outside the app to get the necessary information for safe and practical training.
How to pick training and recovery days throughout the week?
Picking training and recovery days in Freeletics will mostly depend on your schedule and availability. For instance, if you can only train on Mondays, Thursdays, and Saturdays, the remaining four days will be dedicated to recovery.
Most people should alternate between training and recovery days to give themselves enough time to recover. Doing so is necessary to stay safe in the long run and reduce the risk of overtraining.
What are limitations, and how do I use them within the app?
Limitations refer to Freeletics' option for tweaking your training if you are experiencing significant muscle soreness in one area. As you set up your workouts for each week, the app asks if you have any limitations. Answering that allows the app to make changes to your training, leading to a more tailored experience.
Suppose you are experiencing a lot of soreness in your quads. You can indicate that as a limitation, and the app will not recommend exercises that further stress the muscle group.
Can I use the Freeletics app with Weights?
A few months back, Freeletics added the option to enable equipment. However, the app will still focus on bodyweight HIIT training, which means that not all enabled equipment will be used at every workout.
In addition, adding weighted exercises will provide more of a strength element in your Freeletics Workout. However, Fitbod or Alpha Progression could be exciting apps to consider as well.
Does the app work well while traveling and working out in different places?
Freeletics is a highly customizable app that allows you to approach your training in numerous ways and have effective workouts regardless of where you are.
For instance, if you are about to take a trip, you can make some tweaks to the app and receive slightly different training recommendations. As such, the app works great for training at home, at a local gym, and on the road.
Fitbod vs. Freeletics
Fitbod shines with its user-friendly interface, making workout creation more straightforward. However, Freeletics outperforms Fitbod in terms of options and adaptability. Freeletics provides complete programs and adjusts better to user needs. Its wide range of workouts caters to various fitness goals, and its adaptability ensures users have the best-fit program. While Fitbod has its strengths regarding versatility and adaptability, Freeletics holds the upper hand. Check out our comprehensive and in-depth review of Fitbod.