Nowadays, many people cannot seem to stick to a fitness plan. For some, the problem is lack of time. Others cannot seem to stay motivated long enough to make a change. But, we all know that working out consistently is incredibly beneficial for us.
With the rise of fitness apps, the good news is that tracking our workouts and staying consistent has become easier than it ever was. Let us see why that is.
Your all-in-one Fitness Tool
The market offers many fitness-related apps, and some of them are amazing. Alpha Progression, Fitbod and Strong are three prime examples because they allow us to track various aspects of the whole fitness thing.
Strong is probably the most straightforward and most intuitive workout tracker to help you stay on track in the gym. It is specialized for workout tracking using a phone or smartwatch when doing your workout in the gym. The user interface is clean and simple, which makes it very easy to track workouts. It is the little features that make Strong really great and help stay on track in the gym. Read our in-depth app review about Strong.
Another excellent choice for people training while traveling is Fitbod. This app helps build automatic workouts based on your available equipment and customize an exercise based on specific goals and needs. Fitbod stands out with this machine learning capabilities and are great travel compagnion as the app also provides options for in-room and (hotel) gym workouts. Thanks to our partnership with Fitbod you can get the app with 25% discount by using "HOTELGYMS" at fitbod.me/redeem. You want to know more, read our full Fitbod app review here.
Alpha Progression is another workout app worth considering. The app offers a clean and simple interface that helps you put together great workouts, track your progress, and much more. The pro version of the app also comes with built-in deload recommendations, a plan generator, and suggestions for pushing yourself to improve. Unlike some apps on the market, Alpha Progression also offers custom charts that show how your performance changes over time. The best part is, you can export your data should you decide to stop using the app. Checkout our full in-dept review about Alpha Progression and secure a 20% discount code using "HOTELGYMS".
Using any of the three apps allows us to look back and our training and gauge how well we recover. This is a lot of valuable data that helps us make better training decisions for upcoming sessions.
A good App will keep you accountable and motivated
While it may sound a bit superficial, it is not. Tracking your performance and training consistency are two of the best ways to keep yourself accountable. If you do not train consistently, the lack of progress is apparent and tells you something: You need to get serious about this.
Apps are also valuable because you get to see them immediately when you put in the effort and make progress. This creates a positive feedback loop where you see results, keep pushing yourself, and see even more progress.
How to get started
The great news is, getting started is incredibly simple. All you have to do is download an app and set it up. The entire process takes no more than ten minutes, and you are ready to go.
Typically, the app will ask some personal questions like:
What are your fitness goals?
How often can you train, and for how long?
What kind of equipment do you have access to (if any)?
Then, you either let the app create a workout plan for you or add yours to your profile. The best part is that your phone is with you in 99 percent of cases. So, you can stay on track, input your data, and change your training with just a few clicks. Input:
Sets, reps, and weights
Exercises you have done
How your performance is changing
How recovered you are
If you want to simplify your fitness, manage your workouts, and track your progress effectively, you need an app for that.
Which App to choose?
Okay. You understand the benefits of using a fitness app, and you are on board to download one and set it up. The question is, which app should you pick? Our top three picks are Fitbod, Strong, and Alpha Progression. Let us do a quick comparison: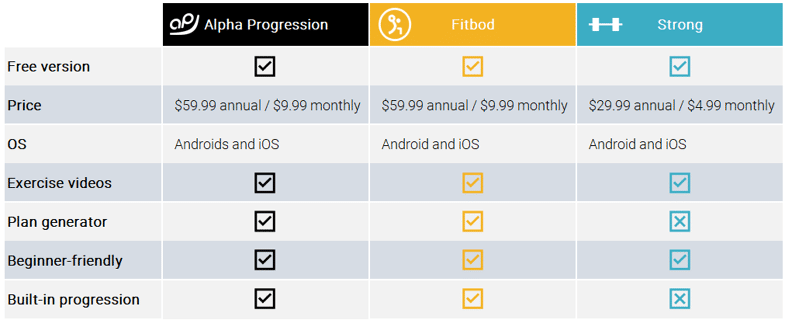 All three apps share many of the features, and each can help you train effectively and achieve great results in the gym. Strong is the cheaper of the three apps and comes with slightly fewer options than Alpha Progression and Fitbod.
The great thing about all three apps is that they offer a free version, which allows you to dip your toe and see what you like. If any of these apps grabs your attention, you can get the pro version for a month.
What others are saying
Social proof is an important metric, so we should not ignore it. Let us take a look at each app's rating and what people like about them.
Strong
With over 110,000 reviews and an average rating of 4.9/5 on Google Play and the App Store, it is safe to say that people enjoy Strong. Many people love the flexibility of putting together and tracking workouts. The app offers a variety of options, including:
To add supersets
To change movements on the go
The app is also great because it allows trainees to easily see their past training numbers, which can help with improvements and lead to more seamless progressive overload.
Users also love the option of exporting data into a spreadsheet, which prevents them from being tied to the app forever.
Fitbod
Fitbod is slightly more popular than Strong and also has a fantastic review profile. With nearly 150,000 reviews and a rating of 4.8/5 on the App Store, Fitbod has proven itself to be great among people. The app is relatively new to Android, which explains the lower review count on Google Play.
Many people love the sheer versatility of the app, which allows them to set available equipment and other preferences.
Alpha Progression
As the relatively newer of the three apps, Alpha Progression has a more modest review profile. Still, the app has over 1,000 reviews on Google Play and the App Store and an average rating of 4.9/5.
Many people love the built-in progression, plan generator, and other features that make the training experience more fun and effective.