Many people love to travel. It breaks up the monotony of ordinary life into an excellent adventure that can be remembered for a lifetime. However, traveling does come with one major disadvantage. If you have a regular exercise routine, these breaks disrupt that cycle and make it tough to get back into it. That is where we come in - please meet HotelGyms.com.
The Vision of HotelGyms.com
Our co-founder Ronny is the one who came up with the idea. He figured that those who are serious about their health deserve to continue it while enjoying the benefits of traveling. So, he thought that a website where one could locate a hotel and see what kinds of fitness options there were in terms of working out would be pretty helpful to these people.
At HotelGyms.com, we turn bad experiences into pleasant ones. Our one-of-a-kind platform has the information about the hotel gym facilities, their type of equipment, the state of machines, and every other minor detail required to choose the right place to stay. Our vision is to help people to stay fit while traveling.
Staying healthy is one of the most important things those who travel frequently can do, as it really does take a toll on our bodies. Many booking platforms rightly focus only on one thing: booking hotels. That is their purpose, which is also what they do very well. At HotelGyms.com, we focus on the information hidden away on those standard booking platforms: the health and fitness environment in the hotels.
My goal is to provide a hotel fitness guide that allows our customers to have a great workout experience while traveling.
-Ronny Frehner, co-founder
Get the Team together.
Of course, Ronny could not do this all alone, and he evangelized the idea to his friends, who then helped him launch the website. Our co-founder Michel is our specialist in product management. As a traveler by heart, he also works with our travel and fitness partners to evolve our main product, the "GymFactor." Meanwhile, Chris is the community manager and makes sure we stay connected to our users. Finally, Hed keeps an eye that we are headed in the direction most people want.
After more than one year of planning and coding, in April 2020, we decided to launch the new release of our platform. We could have had better luck with our timing with the onset of COVID-19 and the almost complete travel shutdown. But these are just another set of challenges that we have to work around to provide people with the best possible workout experience at hotel gyms worldwide.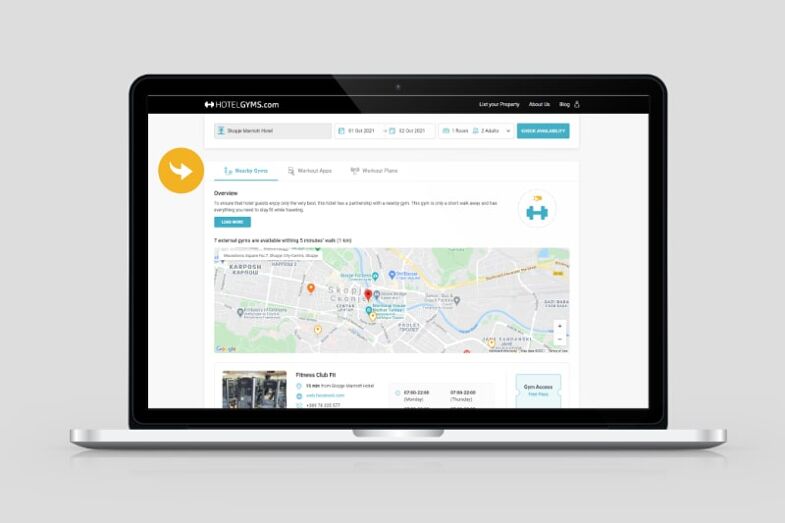 Artificial Intelligence at the Core
The GymFactor Score is at the core of our platform. Without it, we would not have an official or reliable way to track which hotel gyms genuinely shine. This means that we have had to make it as brilliant as a system that we can. So, look away if you fear the Terminator, but read on if you welcome our new robot overlords.
We have used Artificial Intelligence (AI) to analyze various hotel gyms' images to enhance the GymFactor Score further and provide. This makes it less time-consuming for us, and we can therefore get more gyms analyzed and on the site for your own analysis. Using these compute vision capabilities allows us also to add an appropriate description of the image for better accessibility.
What is Next?
We continue our mission to become the information provider for people who want to stay fit while traveling. HotelGyms.com is always looking to improve and reach out to more fitness enthusiasts who also enjoy a good trip.
-Your HotelGyms.com Team