Sometimes you just need to disconnect from work, close your laptop and take a break. So, my girlfriend and I decided to take a trip to Mexico. We chose this part of the world, as it is home to several ancient and historical places. It is also an excellent spot for kite surfing, which is one of my greatest passions.
We spent most of our time in Isla Holbox and a few days in Tulum. There are plenty of blogs talking you through the experience in Yucatán, so I do not want to repeat what others said already. In this post, I share the experience we had to stay fit during our two weeks in Mexico.
Holbox, pronounced hol-BOSH, an island located on the north coast of the Yucatán Peninsula, is home to flamingos, pelicans, and other rich birdlife. No wonder as 75 percent of the island is a jungle of wild mangroves and empty beaches. Fun fact, electricity has only reached the island in 1987, and still, internet and cell signals are rare. Also, transportation is different in Holbox. Most holboxeños get around the car-free island by bike or a golf car. This sounds like a fantastic location for a relaxing beach vacation to me, huh?
What?! No Hotel Gym?
One of the potential problems with traveling is to keep on top of a fitness regime. Unfortunately, many of the hotels in the area we wanted to stay in did not have gyms. But this does not mean we could not work out. The most obvious way of exercising in a hotel without a gym is to do lots of bodyweight exercises. For me, thinking of new bodyweight exercises can sometimes be tricky. And it is important mixing up these workouts to keep them interesting.
While I use the Strong app at home to keep track of my workouts, I really enjoyed using the Fitbod app during this period. The app created a new bodyweight workout for every day. I only had to decide if I want to do an upper/lower body split or full-body workout. Side note: if you travel to a place with limited internet connection, plan to download the exercise gifs (just enable the "Offline Exercise Gifs" in the settings).
Check with the hotel if they have some yoga mats. Or even better if you can get your own. Place it on your balcony and use the Fitbod app to get a good start each morning. And our hotel room had a stunning view of the blue waters of the Pacific Ocean, which was a real treat during the training.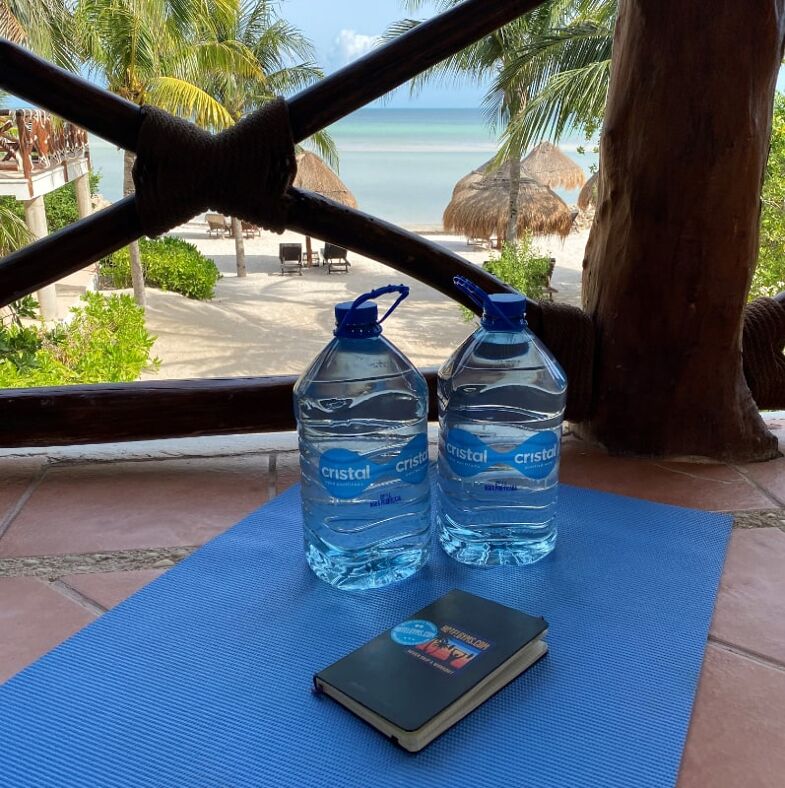 I found it was best to get my training done early before it got too hot and humid. During our stay in Mexico, we were buying lots of bottled water. We figured the big 5l (170oz) bottles are perfect for a workout, as you can use them as extra weights. You can even fill them with sand from the beach once you have drunk the water.
How to find external gyms?
If you are desperate to use a real gym, you may be able to find one with the "External Gym" locator on HotelGyms.com. You could join one of the bootcamps they are running at the beach. A day pass is around MEX 100, which means USD 5. Just remember, payments in Holbox are in cash only.
Cross-Training and other Activities
The things you can do at a travel destination make the trip. As mentioned, we stayed most of our vacation in Isla Holbox, which has a lot to offer. Its stunning coastline is ideal for seeing nature during a kayak tour or from a paddleboard. These are excellent ways to stay active while experiencing the local wildlife and sights.
But the highlight for me was that I could do as much kite surfing as possible. Just be aware, the official kite surfing season ends in May, as the winds start to get unpredictable. So, you do not want to go much later than that. Even you might be lucky with some good kite surfing conditions in June, or even later, the schools will be closed. I highly recommend the Holbox kiteboarding school if you are looking for lessons or supervision. These guys have been teaching kitesurfing in the area since 2009. Their instructors come from all over the world and can teach kite surfers of all levels and in different languages.
Where to Stay?
There is a good chance you want to stay at the beach when going to Isla Holbox. However, most hotels do not have a gym or provide just the very basics. I would definitely give the location a priority. Check-out Casa Las Tortugas, which is very close to the center and restaurant and is basically next to the kite school. On the other end of the island, you can find Villa Flamingos, which is in walking distance (meaning less than 5 minutes) from the kite spot. Both are great options, although very different.
If a gym is at the top of your list for a hotel, you could stay at the Mystique Holbox by Royalton. This is a nice hotel, with a gym which is okay.
Staying Fuelled
For us, a big part of traveling is to eat well. This is especially important when your trip is as active as our visit to Mexico. We found some excellent places to eat in Holbox. Barba Negra is a superb and modern-style restaurant. Here you can expect mountains of tacos piled high featuring a delicious mix of ingredients and drizzled salsas. If you love seafood, you need to try the Maya-style fish taco, palm heart aguachile, or ceviches.
Roots is the place to go for Pizza on Isla Holbox. Their signature Lobster Pizza is excellent, but selecting wood-fired pizzas on offer means there is something for everyone. Roots has a unique and colorful Pizza parlor and an authentic Mexican bar with a superb range of cocktails mixed with local liquors - they made really great Margaritas.
Our favorite place to eat in Holbox was Luuma. This fabulous restaurant is located near the beach (next to the kite school), within a natural walled garden, making it an extraordinary atmosphere. You can expect a diverse menu of different tapas-style dishes and platters - give the Shrimp Kebab a try.
Do not miss out on the History
Of course, a must-do activity in the Riviera Maya is exploring the cenotes. These are natural sinkholes and caves. You either climb down or abseil into the crystal-clear underground rivers. There are many tours to choose from in the area that takes you through these incredible cave systems.
Suppose you want to experience some local history. In that case, you really need to visit the ancient Mayan city of Chichen Itza. A visit here is very eye-opening, especially when you realize how old this feat of engineering is. There are some other ruins in Tulum, but you should not miss out on this one. And you can combine this nicely with hiking, biking, swimming in the cenotes or other activities.
plan. travel. workout.
By staying active while you travel, you can keep your fitness levels up and enjoy the local food and drinks. Also, by doing all the things available to you locally, you can get a workout while experiencing something new. There are often lots of things to do that allow you to see the area in unique ways. With a bit of research, you can get the most out of your trip and create lasting memories. Just remember two things when planning a trip to Holbox:
check the season in case you want to kite
even in 2021, payment is made 95% of the time in cash (MEX, not USD).