Do you ever find yourself heading to another country, and at the last minute, a thought crosses your mind; which power adapter do I need in this country?
If you plan to explore it with your must-have gadgets like a mobile phone, tablet, action cam, and more, you need to figure out how to plug each of them into the local power grid. Because so many countries—and even regions within countries—developed their electricity standards, it is safe to say that diversity reigns out there.
Power Plug Types
The first challenge before you travel is to be sure that you can plug your device into the wall outlet. Where the plug type differs, you will need an adapter power plug with the correct prong configuration for outlets at your destination. According to the International Electrotechnical Commission (IEC), there are 14 different plugs (Type A through Type N) used around the world: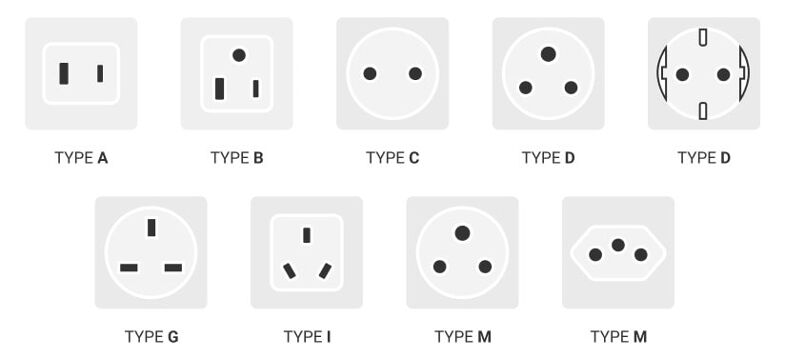 To research the plug(s) you need for any destination worldwide, check out the IEC World Plugs List, broken down country by country. For countries that list multiple plug types, advice from your hotel or lodging provider can narrow your choices. Or you can play it safe and get adapter plugs for all the listed plug types for a country.
The world also runs in two (2) voltage ranges: 110-127V or 220-240V. If your device falls within either range, variations within that range will not be a problem for short-term use. For example, if the local power is 110V, and your device lists its input at 125V, it will work. However, if you plan to live in a country for several months or more, replacing your device with one purchased locally (for an exact voltage match) is worth considering.
If you see "Input: 110-240V" on your plug or power cord, then your device has dual-voltage capability, and no voltage conversion is needed.
Before you travel
We have integrated the power plug information per country in our city search to make your life easier. The data is easily accessible as part of the hotel detail page and will be a helpful indicator for your next trip. We have built this to help you reduce the additional research and planning required when you leave on your next trip.

More detailed information is available on our new city pages, e.g., for Dubai, New York or Tulum, to name just a few. Before you leave on your next adventure, here are the steps to figure out if you need an adapter or converter while traveling:
Verify the plug type that fits outlets at your destination.
Get the correct adapter plug for that outlet.
Verify the voltage in the outlets at your destination.
Also, verify the voltage input on each of your devices. Look for this info on its cord, plug, or somewhere on the device itself.
Get the right voltage conversion accessory if needed.
The right adapter
We do not sell power plug adapters, but we have done some legwork for you. Here is an Amazon link, where you will find a great selection of travel adapters. A few things to consider before you buy your adapter...
Power Plug Compatibility - You must be able to plug your device into the backside of a power plug. Some might have an outlet designed to accept a few different plug types, but you want to ensure your power plug(s) fit.
The USB Ports - You might want an adapter that includes USB ports to charge your mobile devices while using the power plug, e.g., for your notebook. Ensure to check and compare the voltages.
Power Plug vs. Cable – You might also consider getting a local charging cable for your laptop as an example. This could use less space and is more stable when connecting to the power plug.
Good to know, some hotels and other businesses have outlets designed to accept plugs from multiple countries. Before you go, check with your hotel or lodging providers.
And in case you forget, though, big international airports are an excellent place to look for them. That is also how I ended up with lots of different power plugs – it feels like collecting souvenirs from other countries.