Do you ever pack your bags for a trip to a foreign country, only to remember at the last minute, "Which power adaptor do I need in this country?"
Of course will want to use your electrical gadgets like your phone, tablet, and action camera. However, since many countries have established their energy standards, you will need to figure out how to connect them to the local power grid. As this might not be that straightforward, we have compiled this guide to demystify this topic further. Let's dive in.
Power Plug Types
The first challenge before you travel is to be sure that you can plug your device into the wall outlet. Where the plug type differs, you will need an adapter power plug with the correct prong configuration for outlets at your destination. According to the International Electrotechnical Commission (IEC), there are 14 different plugs, ranging from Type A to Type N, used around the world: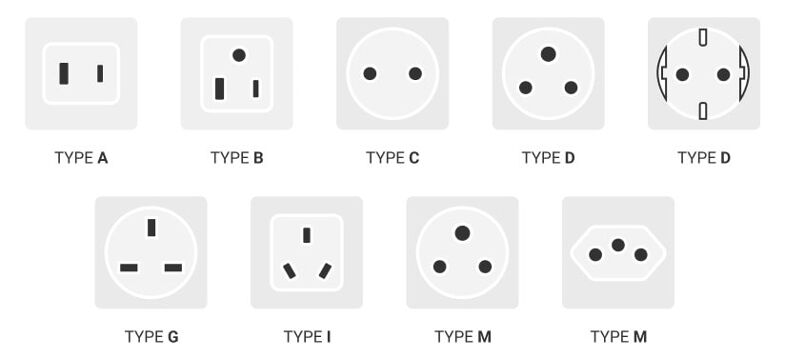 To make it a bit more complex, the world also runs in two (2) voltage ranges: 110-127V or 220-240V. If your device falls within either range, variations within that range will not be a problem for short-term use. For example, if the local power is 110V, and your device lists its input at 125V, it will work. However, if you plan to live in a country for several months or more, replacing your device with one purchased locally (for an exact voltage match) is worth considering. If you see "Input: 110-240V" on your plug or power cord, your device has dual-voltage capability, and no voltage conversion is needed.
To research the plug(s) you need for any destination, check out the IEC World Plugs List, broken down country by country. For countries that list multiple plug types, advice from your hotel or lodging provider can help narrow your choices. Or you can play it safe and get adapter plugs for all the listed plug types for a country.
Before you travel
At HotelGyms.com we integrated this country-specific information about power plugs. The data is conveniently located on every hotel detail page as a guide for your next trip. So if you book your hotel using our platform, the research has already been done for you.

As mentioned above, the best preparation is your power plug adapter. However, before you go out and buy an adaptor, here are a few things to keep in mind:
Compatibility - you want to ensure your power plug(s) fit. Check if you will be able to plug in and charge your device. Some plugs might come with limiting form factors.
The USB Ports - if you wish to charge your mobile devices, for example, your notebook, you will need an adapter with USB ports.
Cable vs. Power Plug - consider whether investing in a charging cable, for example, for your notebook, rather than a power plug would be beneficial. This may take up less room and provides a more stable connection to the power outlet.
Our top Universal Travel Adapter Picks
If you ever stopped by a store to buy a power plug, you will know there are many options. Unfortunately, this can make it very difficult to choose. Luckily, there are plenty of good choices. And to give you some ideas, though, these two are our favorites:

The United States, Europe, and Australia are just some of the 160 countries compatible with the Epicka Universal USB Travel Power converter. Due to its modular design, it is adaptable to many different power outlets. Four USB connections are on the front panel, allowing you to charge five devices simultaneously. Faster charging for devices like tablets, cameras, and phones is possible via the first pair of USB ports, which charge at 2.4A. The Epicka, like other similar universal converters, was designed with 110-volt equipment in mind.

This adaptor from Skross was yet another option that came in helpful. It has sliding levels that allow for a quick and easy transition to the appropriate plug, no matter where you are.
Plugging your devices into the rear of it allows you to use it, but you may also use the twin USB adapters instead. Additionally, it has enough power to charge things plugged into those two USB outlets and whatever is plugged into the back of the device. Even though it would be better if the Skross adapter were somewhat smaller, it is still one of the best universal travel adapters available today.
Still not sure? Here is a link to Amazon, where you will find a great selection of travel adapters.
Some other Electrical Essentials for Travelling
Having the basic electrical necessities ensures that your business trip or vacation is stress-free and that you can focus on having fun (or getting work done). You might want to consider other must-have power items to make your trip hassle-free.
Extension cord: An extension cord comes in handy on the road when the nearest power outlet is some distance from where you are seated. It allows you to plug a device into a wall outlet that is out of reach. 
Multi-plug: Need to charge multiple devices? Then consider bringing a multi-plug with you, which allows you to connect many gadgets to a single power source.
Power strip: Last but not least, the power strip combines the extension cord and multi-plug. It makes hard-to-reach wall outlets portable and allows you to get more outlets from a single power supply. 
Some final Words
Traveling to another country is exciting but requires some preparation. Check out HotelGyms.com when you search for your next hotel; we have all the information for you.
Good to know some establishments, like hotels, are often equipped with universal plugs. However, check in with the hotel or other lodging provider before you leave. Also, do not worry if you forgot your power plug at home; most international airports like to sell them. This is also how I ended up with many different power plugs, like collecting trinkets or knickknacks from other countries.